Congratulations to Amy Rambousek, Sageville Teacher, who receives this award!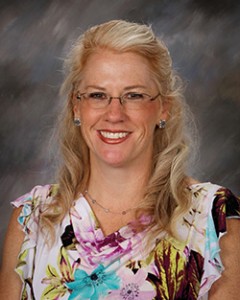 THE DIANE ELGIN DEMAIO ENDOWED FUND FOR TEACHER MENTORSHIP
The Diane Elgin DeMaio Endowed Fund for Teacher Mentorship was established in December, 2000 by the family and friends of Diane Elgin DeMaio. This award honors Diane's career as a teacher and mentor; and in appreciation of her dedicated work and past accomplishments at Clarke University. The endowed fund was set up for the es…tablishment of a mentorship program for teacher education faculty and students of Clarke. Diane attended Clarke in pursuit of her master's degree in education. She graduated from Clarke in 1976. Diane succumbed to breast cancer in 1990. It was her family's request to establish the endowed fund for the mentorship program. The award honors teachers and principals who are dedicated to making learning exciting and meaningful to all students. They are committed to the profession and are creative, caring models to our future teachers. This is the 12th year that they are honoring mentors with this award. The recipients have been:
2002 – Joe Jarosh, Eisenhower School
2003 – Barb Ressler, Wahlert High School
2004 – Nancy Spalla, formerly St. Anthony School, now a Clarke faculty member
2005 – Phil Kramer, principal at Jefferson Middle School
2006 – Tom Cuvelier, Senior High School and Charissa McAuliff, Fulton Elementary School
2007 – Julie Maddox, East Dubuque High School and Roy Hansen, principal of Table Mound School
2008 – Jean Lovell, formerly Eisenhower School, now a Clarke adjunct faculty member and Gerri & John Vesely, East Dubuque Elementary School
2009 – Ken Resch, Hempstead High School and Jenny McDermott, Nativity BVM School, Menominee
2010 – Joe Streit, Fulton School and Dawn Arner-Powers, East Dubuque Elementary School
2011 – Lori Apel, principal of St. Anthony and Our Lady of Guadalupe and Tom Spalla, Drexler Elem.and Middle Schools
2012 – Monica Daly, Dyersville K-1 and Joel Miller, Hempstead High School
2013 – Marabeth Freund, Marshall and Carrie Kirkpatrick, St. Columbkille
2014 – Teresa Slade, music teacher at Hempstead High School and Bonnie Wagner, special education teacher at Peosta Elementary School
2015 – Mary Jane Maher, principal at Drexler Middle/Intermediate School and Margaret Welter, teacher at Holy Ghost School
The recipients of this award will receive $500 each in addition to the plaque.